8 Day Warm Weather Getaway to Jean Michel Cousteau Resort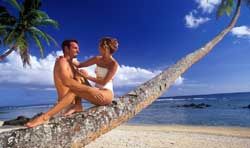 THE PACKAGE:
Jean-Michel Cousteau Resort is an award-winning luxurious island vacation destination in the South Pacific. Guests discover the truly amazing resort experience - focusing on rest and relaxation, authentic cuisine and culture, and exploring the incredible secrets of nature and the local environment. There are a variety of unique interactive activities, lifestyle-enriching experiences and attractions make this the perfect getaway for anyone with
...

Travel2 was created by the partnership of two renowned travel brands: Newmans Vacations and ATS Tours. Combined with Islands in the Sun, our sister company specializing in romance travel, we bring more than 200 years of experience in designing customized travel itineraries to Australia, New Zealand, the South Pacific Islands and Asia.
We understand that no two travelers are alike so we offer endless travel choices for first-time visitors and unique, "off-the-beaten-path" itineraries
...